Roll over image to zoom in
Description
Touch screen,5.1 inch color TFT LCD, simple for operating, quickly&accurately measure the data
Build-in rechargeable Li-battery, up to 15hours running time, support AC and DC power
Adjustable audible and visual alarms, and sensor off alarm
Long time monitoring and sleeping monitoring
Easy to carry, suitable for ambulance center, has the stand for fixing
Back light can be adjusted
Free advanced software
Optional Bluetooth printer to print the waveform and data out
Big font screen interface is easy to observe
Horizontal and vertical display selectable
USB and Bluetooth data upload
Storage and review data up to 9999 user ID and 3888 groups via Trend Graph and Trend List
Description:
Introduction for Palm Patient Monitor
RPM-8000B Palm multi-parameter patient monitor has super high quality and very competitive price. 
All-in-one designed module with 5 standard parameters: ECG, NIBP, SPO2, Pulse Rate and Temperature.  
Free matched two sets advanced software is for data downloading and tele-monitoring, and has convenient & rapid Bluetooth printer can print datas and ECG waveform. 
This machine can meet all requirements, and meet requirements of hospital & other departments in emergency treatment, first-aid, rescue,etc. 
Specifications
Following is the specifications, which has complete configuration of ECG,TEMP, NIBP and SpO2.
1. General Specifications:
Size: 209mm×104mm×47.5mm
Net Weight: 655g
Display Specification
Measurement Display: color TFT- LCD/touch screen
Power Supply Indicator: Dual-color LED (red/green)
Charging indicator: A green LED 
2. Power Supply
AC Power Adaptor
Input: 100~240VAC, 50/60Hz, 0.7A
Output: DC 5V, 1.5A
Battery
Li-ion rechargeable battery, 3.7V,/7200mAH
Operating Time: 15 hours with full battery capacity.
(Condition: 25℃, NIBP working period is 15 minutes)
Recharge Time: 10 hours.
3. Environment
Temperature
Working:0
℃
~45
℃
Transport and Storage: -25
℃
~85
℃
Humidity
Working:30% ~85 %
Transport and Storage: 30% ~95 % (no condensation)
4. Monitoring Parameter
ECG
Input:3- lead ECG cable, standard AAMI cable connector
Lead Selection:I,II,III
Gain Selection:×1,×2,×4,×8
Sweep Speed: 12.5, 25, and 50 mm/s
Frequency Response: None filter: 0.05~100Hz (-3dB), filter: 0.5~40Hz (-3dB)
Calibration Signal: 1mV square wave 
Protection: Against electrosurgical interference and defibrillation
Heart Rate
Measuring Range: 20 bpm~300 bpm
Renew Time: 1 time per beat
Accuracy: 
±
1 bpm
Alarm Mode: Audible and visual alarm
SpO2 
SpO2%
Measuring Range:0%~100%
Resolution:1 %
Accuracy:
±
2 %(90%~99%), 
±
3 %(70%~89%),unspecified (0%~69%)
Pulse Rate 
Measuring and Alarm Range:20~300bpm
Resolution:

 

1bpm
Accuracy: 
±
1bpm
NIBP 
Method: Oscillometric
Mode: Manual, Auto, STAT
Measuring Interval in AUTO Mode: 1, 2, 3, 5, 10, 15, 20, 30, 45, 60 (min)
Measuring Period in STAT Mode: 5 min
Cuff Pressure Range:0 mmHg~300mmHg
Pulse Rate Range:30 bpm~250bpm
Measurement Rage: Adult 30 mmHg~255mmHg, Pediatric 30 mmHg~160mmHg
Over-pressure Protection: Adult 300mmHg, Pediatric 220mmHg
Pressure Resolution

 

: 1mmHg
The SYSTOLIC and DIASTOLIC values measured using this device shall be equal to those measured by trained medical personnel using cuff and stethoscope. The MEAN value measured using this device is equal to that measured using blood pressure measurement device. 
Temperature
Input: Body surface thermal-sensitive resistor temperature sensor
Measuring Range: 0℃~50℃
Accuracy: 
±
0.1℃
5. Storage and Review 
Maximum Data Quantity: 3888 groups
Maximum Trend Time: Continuous 129.6 hours
6. Printer (optional)
Type: Thermal micro-printer
Printer Paper: 58 mm thermal paper,Paper roll diameter≤Φ 33mm
Interface: Bluetooth wireless interface
Recording Types: Real-time printing and review data printing
Power Supply:
Rechargeable battery 1700mAh~2000mAh.7.2V.  
Charge(discharge) ≧1000times.
Charge time: 2hours
Work Operation/relative humidity:0~55℃/10~80%RH
Storage Operation/relative humidity:–20~60℃/10~90%RH
Packing list 
- Color palm patient monitor main unit
1 pc
- 5-lead ECG cable 1pc
- Adult finger SpO2 sensor

 

1 pc
- Adult NIBP cuff

 

1 pc
- NIBP extension tube

 

1 pc
- AC power adaptor

 

1 pc
- The operator's manual

 

1 pc
Selectable Accessory
- Pediatric finger Spo2 sensor

 
- Neonatal wrap SpO2 sensor

 
- Bluetooth printer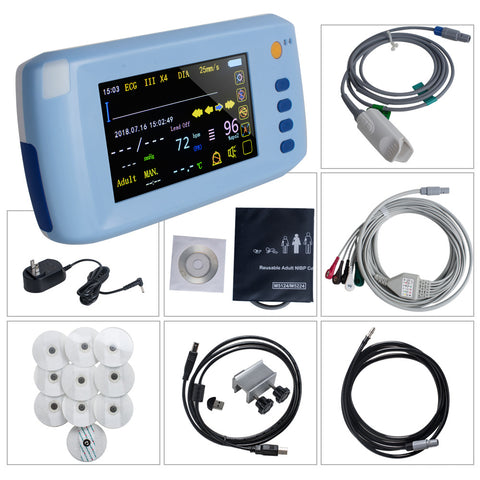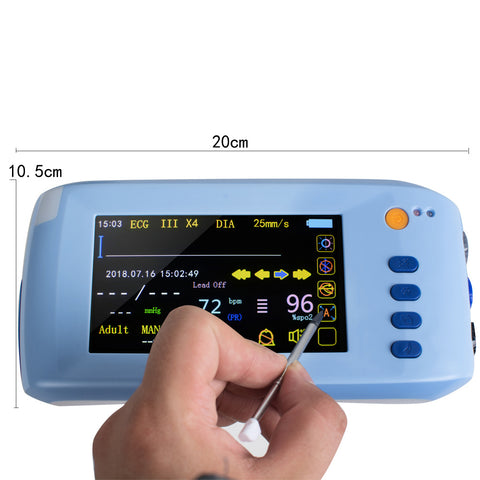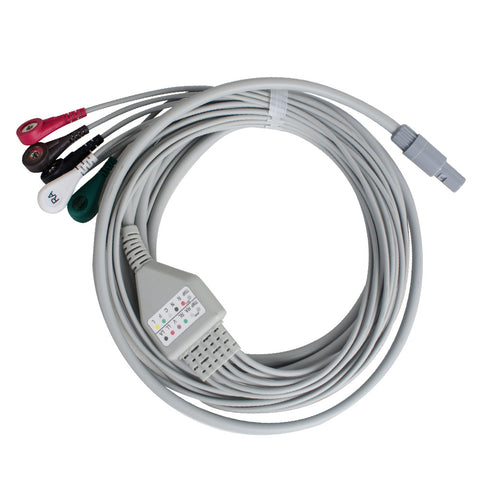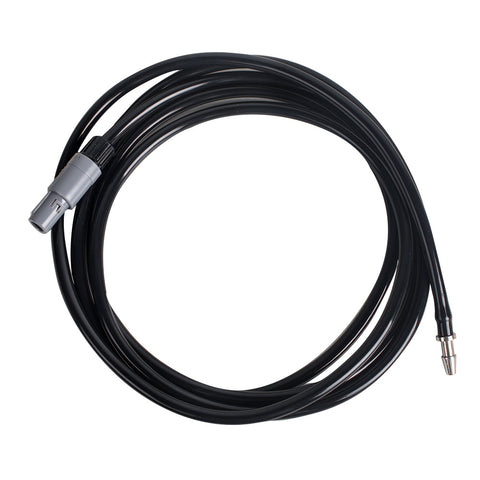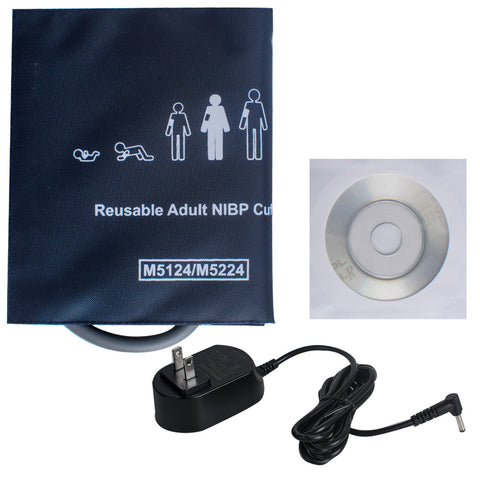 Payment & Security
Your payment information is processed securely. We do not store credit card details nor have access to your credit card information.